Anniversaries are a celebration of two souls who decided to live as one. Anniversaries happen all round the year but in India there are specific months when marriages happen. Many of us have special ones in our lives whom we want to gift something on their special day and are looking for a great Anniversary gift.
Usually gifts have to be chosen as per budget and the relationship we have with the recipient. At the same time, the worry is that the gift should stand out and leave a mark on the recipient. Anything actually can be a Personalized Gift but the question is, will it really leave a mark in that couple's mind and heart.
When it's the Anniversary of someone really special and close: parents, spouse, close friends, siblings etc, you can take the liberty of giving not just any anniversary gift but a Personalized Gift. A Personalized Gift is something that is created "made to order" and will remain an original for all times to come.
Another matter that is of paramount importance is convenience while buying your Anniversary gift. If you are told that you can order a huge variety of Personalized Gifts without having to budge an inch! Personalized gifts in India have really matured wonderfully and you can now buy personalized gifts online from the comfort of your home.
There are a huge variety of Personalized Gifts that can be suitable as an  Anniversary gift and you don't want to end up being confused with all those choices? Then here is our pick :
Personalized Moon Lamp : This Personalized Gift is made using the 3D Printing technology and each Personalized Moon Lamp is created individually. The real surface of the moon id imbibed on the sphere of the personalized moon lamp , there is a remote controlled LED lamp inside the lamp and best part is you can have any picture on one side and any text on the other.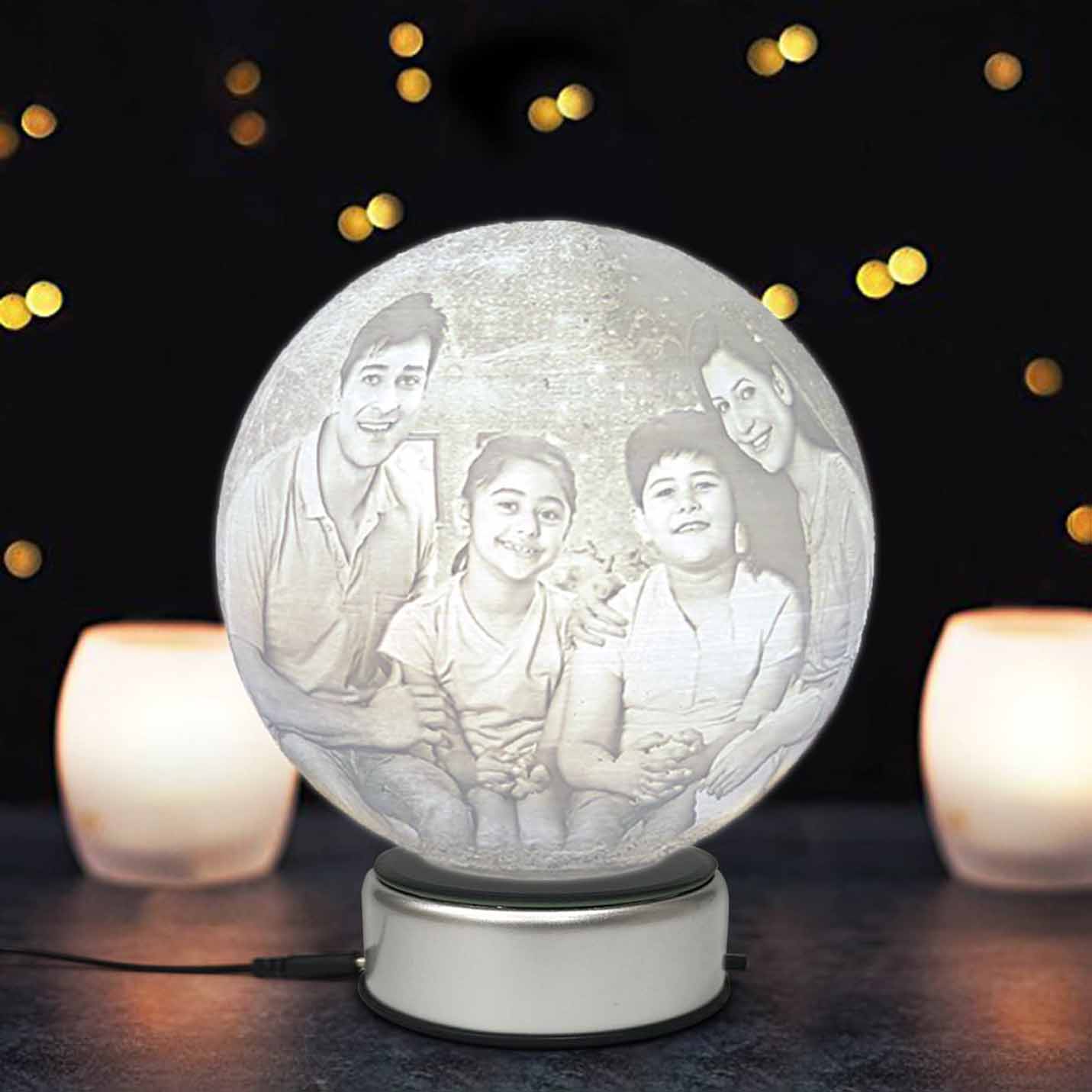 Not only does this Personalized Moon Lamp give a soothing effect to any room , it's a great Personalized Gift as well. All of 14 cm in diameter, this is a product extremely suitable as an anniversary gift. Most customers order this  Personalized Moon Lamp with the picture of their choice on one side and nice quote like "Love you to the moon and back!" on the other. You can of course choose to have any text that you desire.
The LED Light in the Personalized Moon Lamp is rechargeable and lasts upto 8 hours on a single charge. A wooden stand and a USB Charging cable are supplied as a standard with each Personalized Moon Lamp.
This product is still new and is sure to surprise your special couple on their Anniversary. Be prepared for their call the next day!